Heart Songs in the Himalayas  is a retreat dedicated for those of you who not only want to visit this profoundly beautiful and inspiring Himalayan landscape and culture, but also to take this opportunity to deepen our connection to our self and make a positive change in our lives through the transforming energy and joy of chanting and singing.
We will transform, celebrate and liberate through the practice of chanting Mantras and Heartsongs, vocal exercises that not only train our voice, but also harmonize our emotional state and bring us home to the heart.
With the addition of sharing daily practices of the Active Aum Meditation, yoga, listening/talking circles, and occasional dance, walks, visits to monasteries and singing together in beautiful places, flute meditations and more, we offer you the opportunity to join us on this unique journey.
All held in some of the most sacred mountains in the world.
This will be the 4th @HeartSongsInTheHimalayas retreat, supported in heartsong by international chant leader Kevin James Carroll.
"If you've had the experience of participating in my chanting circles or a Kirtan before, you would know this feeling of connectedness that happens when we chant these powerful mantras and the way the energy in the room can gather up your emotions and arrange them into a harmonious mandala that trickles down to calm the mind and soothe the soul.
We will hold a space for you to clean your mind from the constant bombardment that living in the western world entails. This retreat will replace the advertising manipulation, fear, disconnection, and violence with something that supports your connection, self-awareness, and happiness that we hope will carry through and transform your life.
So this retreat is an opportunity for you to share that journey with me, where we are chanting every day and doing the "morning practice", we really have the opportunist to feel that connected state and why not do that in the place that is closest to heaven. Why not be supported by the sacred mountains of the Himalayas!
To be in a group of like minds, this experience is magnified as we cultivate a sense of family naturally as we co-create this inner and outer adventure together.
What I've witnessed during these retreats is that we all grow and heal in this space and my philosophy is this:  Each in their own time and at their own pace.
No pressure, only inspiration, and the tools support you on a journey that only you can make, no one can do it for you..
Whatever has been holding us back from our true honest self, gets removed by these practices, and the healing is always gentle and beautiful, with the support of the group, we realize that the snake was a rope.
The intention is that the experience of this retreat, being in a connected space for a whole 2 weeks will allow some permanent change that may transform your life for the better. This is what our program is directing towards: positive transformation in an enjoyable way.
Here, with your safety and comfort a priority, all is organized for you and you can actually just enjoy the beautiful hotel and grounds and the program which is geared towards your journey of unfolding. Also there's a lot of freedom for you to do your own thing and have input as well. As much as possible we co~create the program with the many options available according to how we feel and of course, the weather. Fortunately, Ladakh at this time of year is sunny and clear most of the time. All sessions are optional.
If you are feeling resonance with the intentions and practices here then I cannot be more excited to share this adventure with you.
Please note that there is an application process involved before registering to ensure the cohesion and intentions are in alignment.
Please feel welcome…" Kevin James Carroll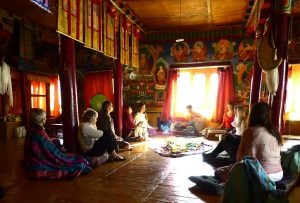 What is this adventure about?
In this chanting retreat, we will be staying in the area called Ladakh, a place of ancient monasteries and where they still keep the Buddhist tradition and their amazing culture alive.
As a retreat based journey, we have the opportunity to enjoy yoga, dance, meditation, walks, voice training and chanting practice. We will facilitate group activities to assist the process of connecting and merging as a group, so that our time spent together is light-hearted, fun and joyful as well as deep and meaningful.
The various day trips and excursions we have planned will feature things such as:
Ancient monasteries where we can chant in their temples
Cave retreats dedicated to Padmasambhava, the incredible tantric yogi and mystic who brought Buddism to Tibet and the Himalayas
Walks in places of power and majestic beauty in the natural world
Apricot picking where we can sample some of the varieties of Himalayan apricots
Leh – where we can explore the ancient capital of Ladakh, with its grand palace, many bazaars, ancient lanes, and gardens as well as being a great place for shopping and restaurants
A visit to the Educational and Cultural Movement of Ladakh (SECMOL), an alternative school founded by a group of young Ladakhis with the aim to reform the educational system of Ladakh. We might have the chance to chant with the kids and create a cultural exchange.

More about Daily Chanting
Kevin will guide us daily in an exploration of the profoundly transforming energy of chanting.
We begin our day with Kevin sharing what he simply calls his "Morning practice" which involves a deep journey into the Aum Active Meditation & toning sacred sounds as he shares his profound insight into the nature of sound and the connections it has to every part of our lives.
You will be supported to open up to an effortless way of singing in your natural voice with emotion and feeling (the essence of Bhakti) and Kevin will explain how this has a direct connection to your true authentic self.
This will improve and open your voice, clear emotional blockages and give your energy centers a cleanup and charge up with the power of your own voice. Send a message of harmony to every cell of your body. Feel the deep meditation of toning the sounds of your own true nature as it aligns your being and gives you a clear aura of peace and healing.
In the daily chanting sessions, we explore some of the blissful trance states that come from certain mantras with the possibility to learn some of the more difficult mantras he doesn't normally share in the circles. Also, there will be the element of co-creation where Kevin will do his best to accommodate the desires of the group including some 'one on one' help if needed.
"The benefits from chanting are clearly evident in just one 2 hours session. What I love about these retreats is that I get a chance to share the experience of what it's like to be chanting every day and how this can have a profound effect on your state of being and health but even much more than that, it can change your reality, where it's almost like we enter another dimension of harmony and grace. This is really the essence of what I intend to share at these retreats." ~ Kevin James
The facilitators
About Kevin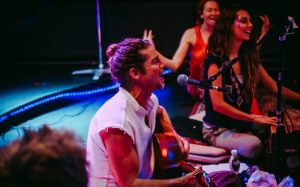 Weaving ancient mantras with his own prayers and  hearts song, he draws upon influences from traditional Indian Kirtan, Bhajans, Celtic and Sufi chants mixed with western folk sounds and world instruments.
Since 2003, he has been leading chanting circles in and around Byron Bay, Australia as well as many other parts of the world as he travels the globe sharing his vision of heartcentered connection and oneness.
Practicing Bhakti Yoga (The yoga of devotion) since his first visit to India in 1990, Kevin James now leads chanting circles and workshops in yoga festivals and studios all over the world.
His intention is to unite people to the heart through the simple act of chanting together in a way that is universal and based on the principles of Bhakti Yoga, to see the "One" or the Divine in everyone and everything.
A search beginning, continuing, and ending in love.
About Auður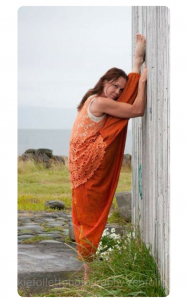 Yoga is originally connected with nature, so it is a precious gift to do yoga and meditation in nature as in the Himalayas. We will find the open sky open the inner space, the sun enlighten our inner light, mother earth give us connection and security and the blessed air enrich our prana!
Auður Bjarnadóttir has taught yoga since 2000. She runs a yoga studio, Jogasetrid in Reykjavik, Iceland since 2002. She teaches Hatha Yoga, Kundalini Yoga, Yoga Nidra, Prenatal, Moms and babies and seniors. She also runs Teacher trainings in Kundalini yoga, Yoga Nidra, Childplay as well as diverse workshops and events.
Audur is a yoga therapist and in all her work focuses on the magic of coming home into the body, home to the Self, and with compassion finding the oneness within so we can unfold to who we really are and unite with all.
Auður was a professional dancer, choreographer and theatre director for years, dancing in Germany, Switzerland and Sweden. She also lived and studied yoga and theatre in Wales and in US.
Auður loves to teach yoga but also to be an eternal student in yoga and life. She enjoys combining traveling and exploring the world as teaching yoga, like Spain, Crete and Corfu. In spring and summer, she will teach in Nepal, Amorous Greece, Spain, Sweden, Bali and so much looking for Ladakh with Kevin and other wonderful souls.
Practical Information
Duration: 15 days. From the 27th July to 10th August 2019
Price: 2.700 € (Twin share room). 3.240 € (Private room)
For participants of previous retreats, we offer a "heartsongs family price" of 2.470€ (twin share room), 3.000€ (private room).
What is included? 
Accommodation based on a shared or private room for 14 nights at the Togocheepa Eco Hotel and Yoga studio.
3 organic and vegetarian meals a day (buffet style with 4-6 different choices). Special dietary options can be available under request (if so, at the time of the registration, please don't forget to mention it).
Pure filtered spring water, herbal teas, real roasted coffee.
Free access to the facilities: whole day use of the yoga studio and all equipment, use of our garden and sitting equipment + tea/coffee tent
Daily morning practice
Afternoon/evening chanting circles with Kevin James
Morning yoga classes.
Transfer from Leh to Togocheepa Eco Hotel the 27th July
Transfer from Togocheepa Eco Hotel to Leh on the 10th August
Day trips to monasteries, Alchi, Ridzong, Lamayuru.
What is not? 
Your round-trip airfare from home to Leh.
Accommodation & meals in Leh (we can help suggest and book a hotel and transfers)
Insurance
Visa
Individual transfers in case you cannot take the ones provided by the retreat. (we will help you to arrange that with prior advance)
Accommodation
We will be staying at Togocheepa Eco Hotel and Yoga studio.
Located in Hemischukpachan (2 hours away from Leh), a small and green village in the Sham valley in the region of Ladakh. The hotel offers luxurious rooms with panoramic views and all the meals are made by locally sourced foods farmed by the villagers. In its yoga studio, we will hold all the indoor activities, workshops and chanting circles. Next to the hotel there is a secret water garden for chanting in open air, with lots of little streams, old trees and hammocks everywhere.
You can get an impression of the hotel in this video.
More information about other facilitators coming soon..
Testimonials from participants of past retreats
"This week was the most intensive and best experience of my life! I will keep it as a treasure in my heart and spread out this love in the world.
I am so happy that I decided to join this retreat.
THANK YOU!
I lost my fear that I carried with me since I was a child through singing, chanting, dancing and being together with you wonderful people who created a safe space full of love and joy! I am so grateful for that. THANK YOU!
There is so much energy and power in me which was released by that deep healing and I am charged by singing. It feels like I have found my place in my life, standing with my feet on my position, completely in my body and my hands are free for dealing for what I want and I made some important decisions within the last days. How amazing!
At the moment every day is like a wonder, as I am discovering myself in this new life…"
K.R
"My whole life I have wished to be able to sing, to express all that I feel in my heart.
This week, my dream has come true and I take this wonderful, full of light energy into my future life with me.
Thank you so much from my heart for this experience."
U. F.
" I don't have words to describe what I feel.
A deep inner happiness and serenity. A place deeply rooted in me. I see so much beauty around me. So much depth we have experienced and at the same time
we had a lot of fun. I tell other people of our week and they immediately feel the passion, pure joy, love, connectedness. It was magical!
I thank you all from the bottom of my heart! Thank's Kevin that you showed us your way of life. You are in my heart!"
S. F
"It was totally amazing. Kevin's music went so deep into my heart, I was feeling like it wants to jump out and radiate like a huge sun.
The energy was so strong, solving, supporting and open. The circle was like a big family. People got so close to each other from the first day.
I never felt stronger connection to myself, my heart and other people.
The experience was totally gorgeous."
N.N.